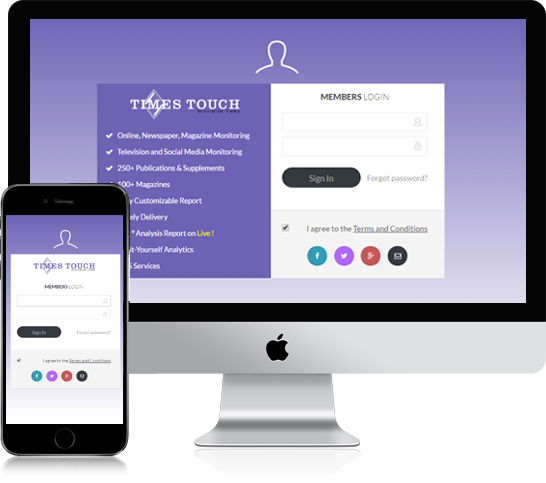 Welcome To Times Touch
The best media monitoring service provider
Times Touch has provided Media Monitoring services for Print, Online, National, Social, Advertisement, Electronic and Tender media in India. Times Touch Press Monitor the effectiveness of your media campaigns and evaluate industry trends to provide well-shaped media management solutions. Times Touch deals today's best Media Tracking solution provider, unique media coverage from all industry sector, extremely picture-perfect clippings, programmed daily monitoring coverage alerts.
View Features
Our Features
We are great at what we do and our Services
Fully Customizable Report
We create insightful summarization reports and provide fully customizable formats based on requirements.
750+ PUBLICATION & SUPPLEMENTS
Keep Monitor of your brand with unique combination of media monitoring technologies and human intelligence.
500+ Magazines
National Magazines are monitored across our global network to provide clients with the coverage they essential.
Timely Delivery
Clips delivered by email the next morning before start of business or in real time and consolidated scans of press clippings every Week.
360 DEGREE ANALYTICS
Live Analytics will show you to understand efficiency of their creativities. Detailed 360O analytics views of each and every coverage.
Do-it-Yourself Analytics
Provide customized, Event management and Analysis research on D-I-Y phase every day in all the aspects.
Dashboard
Times Touch portal is in-built and designed for ease of use. All of its functionality is available to all clients so if you start with a basic monitoring and enlarge over to complex measurement analytics.
Reporting
Times Touch includes custom views and folders and user-selectable and exportable charts to help you easily create your important graphs. Times Touch has both the charts and data are exportable from any part of your dashboard to simplify reporting.
Solutions
Times Touch monitoring services process to cover traditional, broadcast, and social media, giving an all-inclusive view of media coverage. The Twice daily alerts and tailored website and its many search options and ensuring timely delivery of reports.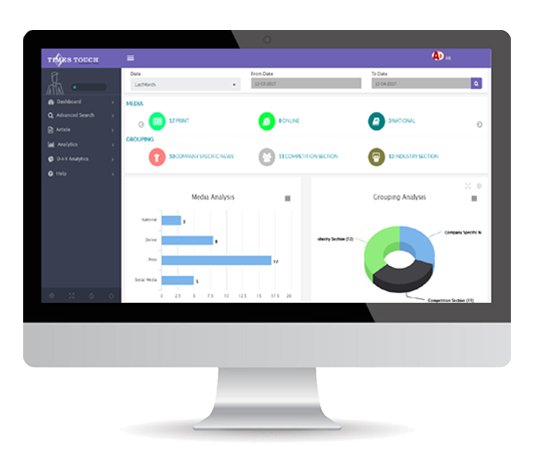 Key Features
Member Login Credential for Any Time Access / Any Where
Multiple/Single Coverage Export in PDF, DOC & JPG
Completely Customizable and Dynamic Report
Fully Smartphone Responsive Dashboard
Social App Alerts i.e. WhatsApp, Hike, etc…
D-I-Y Tailored Analytic Views
About Us
We are a company of hundreds of specialists committed to delivering useful monitoring data for Internet, Newspaper, Media Analytics and Advertising agencies around in India. Times Touch Media monitoring provides you the competitive edge and intellect data for markets in India. Times Touch provides relevant media clips/coverage from broad range of sources in real-time. We offer highly competitive and flexible pricing options to make sure you receive the best quality at the most completive cost.
Contact Us
Our Wonderful Services
We are a young team of professionals that love and take pride in their work. Let's work together!
Contact;Request Demo Form
Our Location
Delhi, Mumbai, Hyderabad, Bangalore, Kolkata, Chennai, Ahmedabad, Kochi, Pune, Chandigarh, Jaipur, Lucknow, Bhopal.
Contact Details